Human Capital Consulting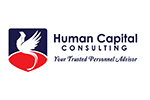 Human Capital Consulting is a recruitment advisory specializing in search and selection.
We conduct our business in a manner designed to deliver bespoke recruitment service to both candidates and clients.
As recruitment professionals with expertise in Banking and Financial Services we assist our business partners in acquisition of top talent
for front, middle and back office roles.
Services offered by HCC include:
direct search for specialist and middle ranked management positions across different specialities (Finance &Accountancy, IT, Procurement, Sales &Marketing, etc.)
executive search for senior management, director and C-level positions,
volume sourcing (providing support to our clients in setting up new teams, transition of respective business processes or simply ensuring availability of multilingual staff)
graduate recruitment (ensuring that organic growth of our clients is followed by influx of young talented individuals).
For our candidates we provide comprehensive career management and advisory service.
Working with clients from SSC/BPO sector we have understood the importance of continuous process improvement, added value of collaborative learning, necessity to deliver service in extremely narrow time frames and we are using this knowledge every single day to reinvent recruitment .
Contact details:
Meet us at the conference: