Google for Entrepreneurs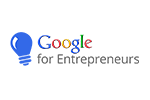 Google for Entrepreneurs is "the umbrella" for Google's several dozen programmes and partnerships around the world that support startups and entrepreneurs.
Google for Entrepreneurs focusses on three key areas:
Partnerships with strong organizations that serve entrepreneurs in local communities.
Google-led programs to bring Google teams and tools directly to entrepreneurs.
Placing relevant Google tools in the hands of startups as they are getting off the ground and ready to scale.
Astia is one example of a programme supported by Google for Entrepreneurs, a global community of experts which aims to propel women's full participation as entrepreneurs and leaders in high-growth businesses. Google for Entrepreneurs is proud to support Astia CEO, Sharon Vosmek's participation in "Acting Local, Winning Global 2014."
Contact details:
Meet us at the conference: