City of Bydgoszcz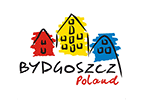 Bydgoszcz is the capital of the Kuyavian-Pomeranian Voivodeship with a population of over 360,000 residents. It is the eighth largest Polish city, located in central Poland at the intersection of major country roads No. 5, 10, 25 and 80, railway lines connecting Silesia and the coast, east and west of the country, as well as E-70 waterways connecting Berlin and Kaliningrad.
Another advantage is a rapidly developing I. J. Paderewski International Airport which serves domestic and foreign flights, including charter flights. Due to continued investments in infrastructure and the influx of new investors, Bydgoszcz continuously changing its image from an industrial city to a city of modern technologies and services. Bydgoszcz strives for creating conditions to support the development of modern economy by providing the right conditions for investment and supporting the economic activity of existing enterprises.
The population of Bydgoszcz consists of mainly young (average age of 36) and educated people who find employment in companies which operate in Bydgoszcz. In addition, excellent quality of work and competitive level of remuneration, in comparison to other cities, is one of the most important factors taken into account by companies which are choosing the location for their businesses. An additional advantage is a diversified economic structure and a well-functioning business environment. Bydgoszcz in supporting entrepreneurs taking a number of measures to facilitate business start-ups, including, in particular, helps in searching for the best location for the project, obtaining the necessary decisions and permits, creates an friendly environment for development of local entrepreneurship. Representatives of the City also helps in conducting the recruitment process in accordance with the requirements set forth by the Investor, using potential of students and graduates from the local Universities of Bydgoszcz and human resources from Labour Office in Bydgoszcz.
The position of Bydgoszcz on the Polish map of outsourcing services is becoming increasingly strong. The City enables good conditions for the BPO/SSC sector and enables creation of competitive advantage, based not only on economic aspect such as price, but also on the quality of services. The City offers attractive conditions for business, local developers offer modern office spaces of the highest A standard and most importantly, skills of local IT specialists and economists remain at the highest level providing a continuous supply of talents in the labour market. Along with an increasing interest in the City, the number and the quality of available office spaces, including open-space, is growing rapidly.
Contact details:
More about us: