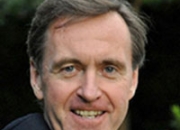 Chris Lowney
Best-selling author
Jesuit seminarian turned investment banker
Chris Lowney (b. 1958), formerly a Managing Director of JP Morgan & Co, is a writer, public speaker, and leadership consultant. He is author of the bestselling Heroic Leadership and of three other books. He chairs the board of CHI, one of America's largest healthcare/hospital systems.
Biography
Born in New York City, Lowney entered a Jesuit seminary after high school. He completed a B.A. in History and an M.A. in Philosophy at Fordham University (both in 1981), and was elected to Phi Beta Kappa. He left the Jesuit seminary in 1983 and worked at JP Morgan & Co from 1983 to 2001. At Morgan, he was an investment banker to Fortune 1000 companies and, later, a Managing Director in Tokyo and Singapore, where he served on Morgan's Asia-Pacific management committee; later, as a Managing Director in London, he served on Morgan's Europe, Mideast, and Africa management committee.
Since leaving JP Morgan in 2001, Lowney has authored four books. He has delivered talks and conferences on leadership, decision-making, and business ethics throughout the U.S. and in Spain , France, Australia , Argentina, Uruguay , Colombia , Indonesia, and many other countries.
Since 2013, he has been chair of the board of Catholic Health Initiatives , America's second largest not-for-profit hospital/healthcare system with more than 80 hospitals and $10.7 Billion in annual revenues.
Publications
Lowney has authored four books:
Heroic Leadership: Best Practices from a 450-Year-Old Company that Changed the World (2003) was a number-one ranked bestseller of the CBPA and has been translated into eleven languages. It was named a finalist for a 2003 Book of the Year Award from ForeWord magazine and was named to the US Marine Corp Commandant's Professional Reading List.
A Vanished World: Muslims, Christians, and Jews in Medieval Spain (Free Press, 2005 ; Oxford University Press, 2006 ) was nominated for La Corónica award. The PBS-aired documentary, Cities of Light, featured Lowney and echoed many of the book's key themes.
Heroic Living: Discover Your Purpose and Change the World was published in 2010
Pope Francis: Why He Leads the Way He Leads was published in 2013.
His work has been featured in the The Wall Street Journal, and in on line editions of Forbes and the Harvard Business Review
Social Entrepreneurship and charitable efforts:
Lowney founded Pilgrimage for Our Children's Future, which funds education and healthcare projects in the developing world. He helped launch Jesuit Commons-Higher Education at the Margins, which offers university-level education in refugee camps. He conceived and co-founded Contemplative Leaders in Action, a young adult leadership formation program active in seven cities.
Awards
Lowney holds honorary doctoral degrees from Gonzaga University, St. Louis University, the University of Scranton, the University of Great Falls, and Marymount Manhattan University. He was named a miembro honorario del claustro at the Universidad del Pacifico in Peru ,was 2009 commencement speaker at the Ateneo de Manila University in the Philippines. , and delivered the 2012 JRD Tata Oration at XLRI in India.
Links: