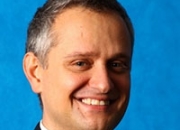 Wojciech Poplawski
Director, BPO Poland
Accenture
Wojciech Poplawski leads Accenture BPO Delivery Organisation in Poland (Warsaw, Kraków). He is a member of BPO Delivery Leadership Team in Europe and key leader driving Technology Agenda for BPO in Europe. Wojciech is Faculty and Council Member of Accenture Business Process Innovation Academy launched in collaboration with the Massachusetts Institute of Technology.
He has a significant track record in managing Global Business Process Outsourcing programs for the leading international corporations. He has gained a lot of experience managing the multicultural teams in India, China and Eastern Europe. He has been actively involved into sales, solutioning, change management and implementation of complex shared services and outsourced operations for the Fortune 500 companies.
Wojciech started his professional career in 1999 in one of the first Polish think tanks – The Gdansk Institute of Market Economics [Instytut Badań nad Gospodarką Rynkową] – specializing in the capital markets, venture capital, corporate governance and innovations.
Wojciech graduated from University of Gdansk with a master's degree in International Finance & Economics. He also studied organisation & management at University of Regensburg in Germany.