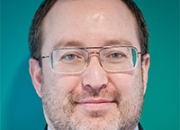 Greg Cardenas
Head of Technology Support Services
Alexander Mann Solutions
Greg Cardenas is the Head of Technology Support Services at Alexander Mann Solutions. His main focus area of focus is the Recruiting Technology Support and Business Intelligence functions which service global clients.
Greg has over 20 years of experience in the field of HR, Recruiting, Outsourcing, Applicant Tracking Systems, and Call Centres. He grew up in The United States of America and has been an expatriate launching and managing shared service centres throughout the world.
He was the first to implement Taleo (formerly Recruitsoft), globally while at HP in the silicon valley. Greg has been a global recruiting subject matter expert on HR.com since 2011. He is the creator of the Linear Recruiting Methodology and first HR practitioner to receive a recruiting process patent in the US. He has his Masters in Human Resources & Personnel Management.